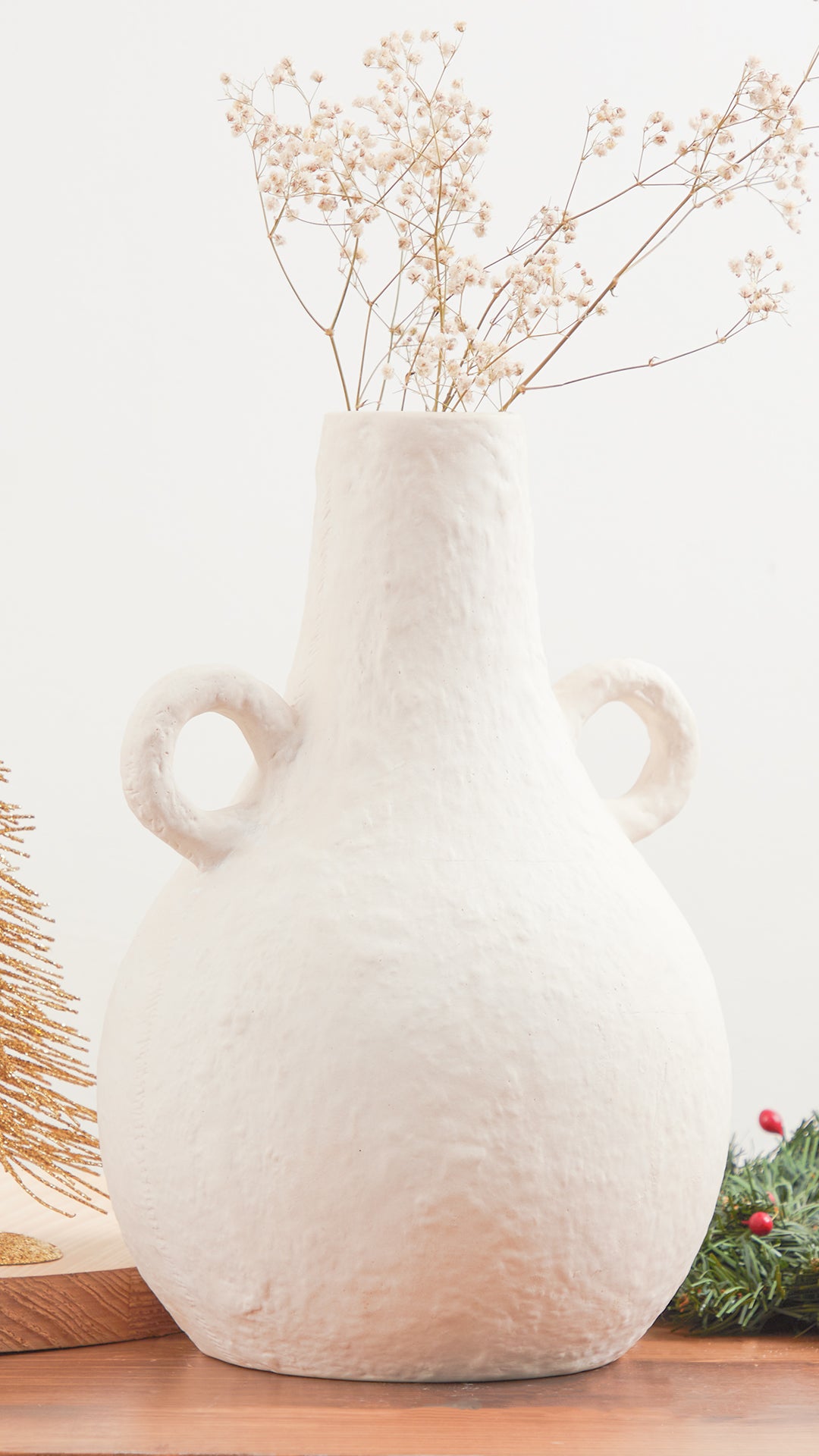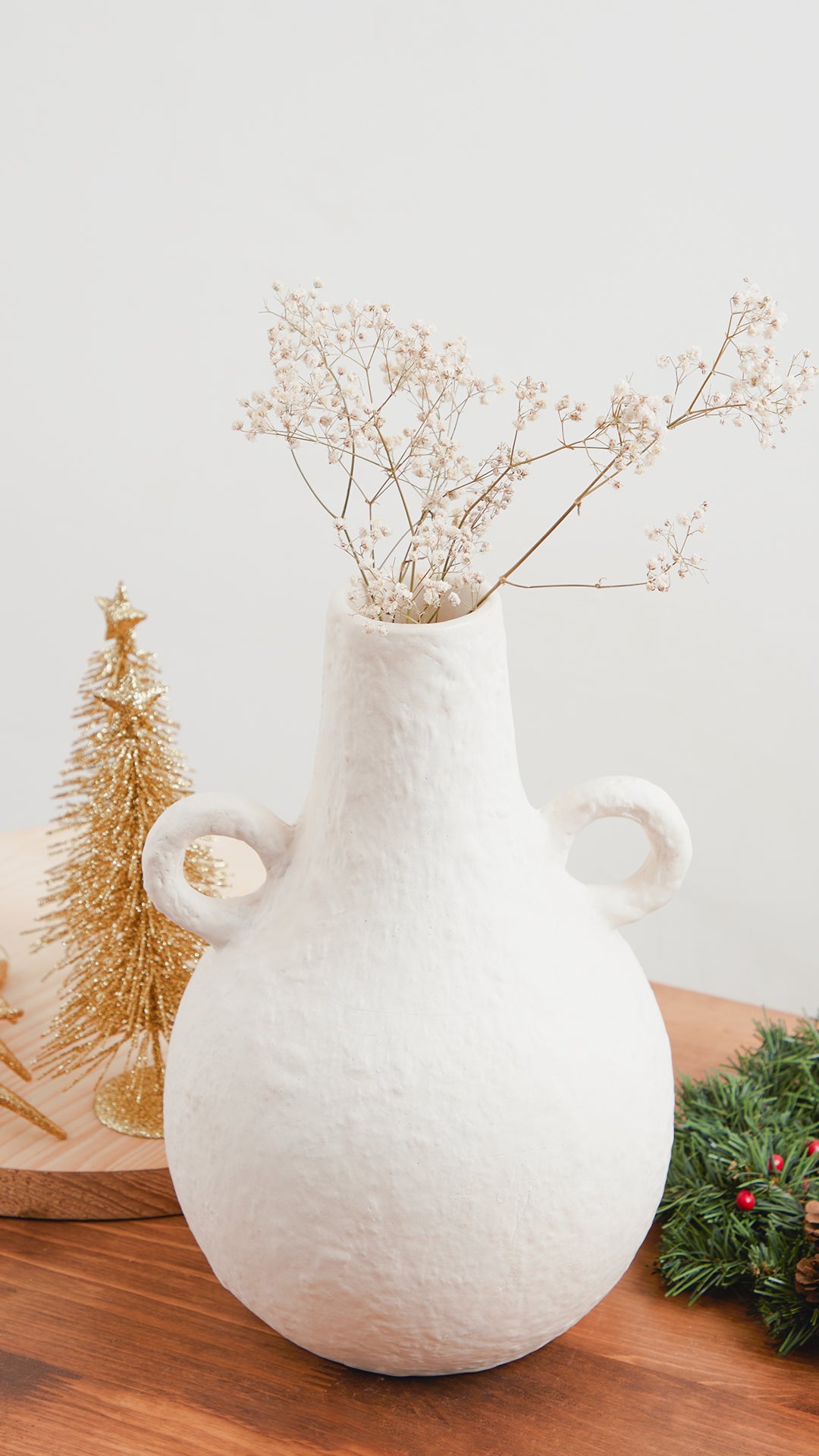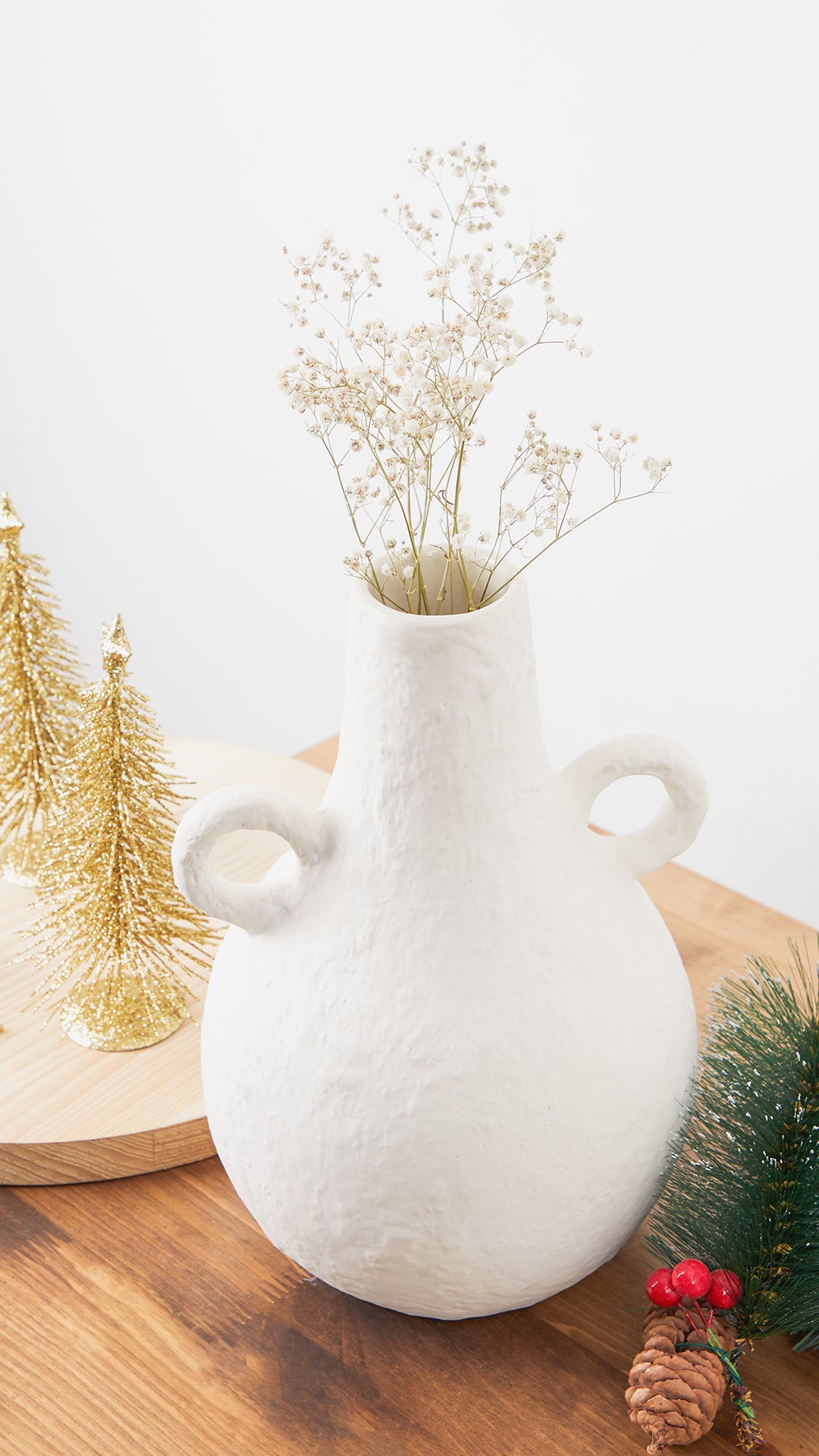 Arabica Ceramic Vase White
Regular price
Rs. 1,699.00
Sale price
Rs. 1,699.00
Regular price
Rs. 1,699.00
Tax included.
Material: Ceramic
Size Details:
Height = 12"
Diameter = 8"
Description
Specifications
Shipping & Return
It's a spectacular result when colourful flowers or refreshing green plants to even the dry twigs meet our impressive Arabica Ceramic Vase with a classy matt finish in white. Use this beautiful piece of ceramic art to spruce up any space. It's neutral tones and abstract shape will work in most spaces adding a little character to the room.
Material:

Ceramic 

Colour:

White

Dimension:

Height     = 12"
Diameter  = 8"

Finish Type:
Matt

Ships in: 10 Days
Note:
The plants are for representational purposes only. It does not come with a planter.All our products are handmade with love.
Please expect a colour variation from the image.
CARE
Ceramic planters are a popular choice for indoor and outdoor plants because they are durable and come in a variety of styles and colors. However, like any other planters, ceramic planters require proper care and maintenance to ensure they last for a long time.

Regularly clean your ceramic planter to prevent the buildup of dirt and debris, which can attract pests and cause staining. Use a soft brush or cloth to wipe the planter, and avoid using abrasive cleaning agents that can scratch the surface.

PRODUCT
Materials: Ceramic
Base Colour: White
Finish: Matt Finish
Shape: Vase
Special Features: Only Artificial Plant can place in this
Placement: Indoor Desk

Made in India with love by Palasa
Shipping:
Orders for Ceramic Planters will be dispatched within 7 - 10 business days after order placing, and all shipping times are projected to be anywhere between 3 -12 business days depending on the region to be shipped in India.

Returns:
We work on a no return and refund policy for all items.

If the product is received in a damaged state and the same is brought to our notice within 48 hours, along with supporting unboxing videos and images of the damaged product, we will be able to return or exchange the product.

After 48 hours has passed, we won't be able to return or exchange the same.

To be eligible for an exchange, your item must be unused and in the same condition that you received it along with a receipt or proof of purchase. A reverse pickup will be scheduled for the same.

Love the texture
Amazing product
There is something so beautiful about the texture, and it looks so stunning with white flowers
More Information
About Ceramic Planters:
Ceramic Planters due to its material properties helps the plants grow better.

Glazed Ceramic absorbs less moisture from the soil compared to metal, cement and terracotta which helps maintain the soils moisture levels. They also seem to last long years while getting used both indoors and outdoors. If the pot is glazed inside the planter as well, then they will not "breathe" as the terracotta ones do.

While unglazed ones, absorb some water to create the right balance therefore less chances of having root rot. At some levels, these are comparable to terracotta as it also has some water absorbing capabilities while also allowing some air to be circulated.

Apart from that, ceramic can be tricky to handle as ceramic is generally heavy and are fragile so can easily break. This also makes them more difficult to move around when potted with soil and plant. Since the ceremic absorbs some water, with heat and cold there is expansion/contraction that does lead to cracking and chipping. It is best to choose terracotta for outdoor as its more likely to not be affected by weathering.

Ultimately the choice of having ceramic is about placement, plant and the needs of the plant. If you want the moisture to be aborbed for dry plants, then unglazed work as it helps reduce moisture in the soil but if you want to retain them, glazed ceramic are better and more weather proof. And if brittleness is to be avoided, then either the planters can be inside the house or looking at alternative material might work better. Lastly, ceramic are also easier to design and therefore it not only is used for its plant friendliness but also cause of how beautiful they look.
About Palasa:
Palasa, your one-stop destination for all things planters!

At Palasa, we believe in fostering a deep connection with nature, and our mission is to make gardening and plant care an effortless and enjoyable experience for everyone. Whether you are an avid plant enthusiast or just starting your green journey, our carefully curated selection of plants, planters, and gardening essentials is designed to cater to all your botanical needs.

Embrace the beauty of nature, create your green haven, and let the magic of plants transform your living spaces. With our commitment to quality and customer satisfaction, we invite you to explore our website and embark on a delightful journey into the world of plants. Happy gardening