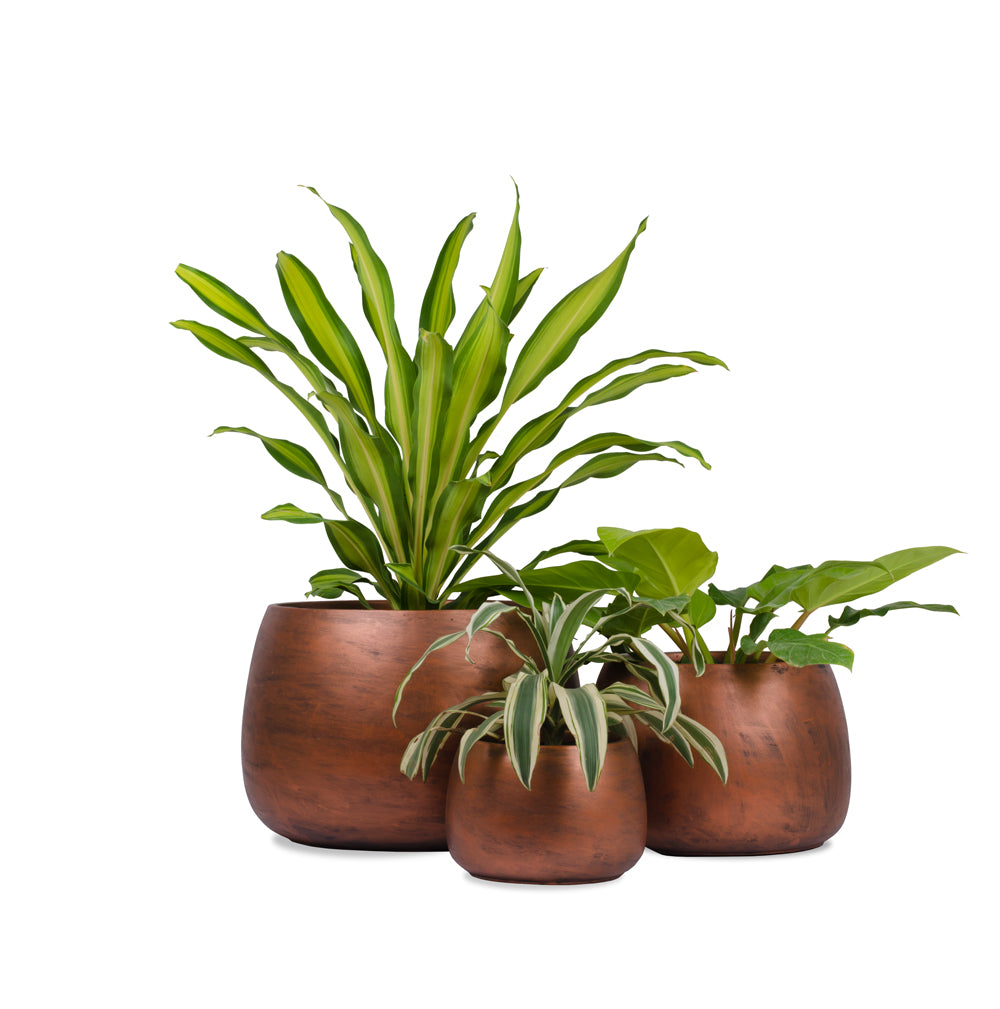 Fiji Round Antique Planter
Regular price
Rs. 4,300.00
Sale price
Rs. 4,300.00
Regular price
Rs. 4,300.00
Tax included.
Material: GRC
Size Details:
Small :
Height = 8"
Diameter = 11"

Medium :
Height =12"
Diameter = 16"

Large :
Height = 15"
Diameter = 21"
Description
Specifications
Shipping & Return
Bring the beauty of copper to your outdoor space with the Fiji Planter Series. This dual-tone planter is made of GRC material that is easy to move, making it perfect for updating your outdoor look. Enjoy the lasting beauty of copper without the heaviness of concrete.
Material:

GRC 

Colour:
Rust Dual Colour

Dimension:

Small :
Height  = 8"
Diameter = 11"

Medium :     
Height  =12"
Dimeter = 16"

Large :    
Height = 15"
Diameter = 21"

Finish Type:
Matt 

Ships in: 10  Days
Note: 

The plants are for representational purposes only. It does not come with the planter.

 

All our products are handmade with love. Slight colour variations can be expected.
The planter comes with a drainage hole. This can be covered upon request.  
CARE
GRC planters are generally weather-resistant, but it's still a good idea to protect them from extreme temperatures and direct sunlight.

Regular cleaning of your GRC planters is important to maintain their appearance and durability. You can use a soft cloth or sponge and mild detergent to clean the surface. Avoid using abrasive materials or cleaners that contain harsh chemicals

PRODUCT
Materials: GRC
Base Colour: Brown
Finish: Matt
Shape: Circular
Special Features: Durable, Lightweight, Stong
Placement: Indoor Floor Planter and Outdoor Floor Planter

Made in India with love by Palasa
Shipping:
Orders for GRC Planters will be despatched within 1-2 business days after order placing, and all shipping times are projected to be anywhere between 3-12 business days depending on the region to be shipped in India.


Returns:
We work on a no return and refund policy for all items.

If the product is received in a damaged state and the same is brought to our notice within 48 hours, along with supporting unboxing videos and images of the damaged product, we will be able to return or exchange the product.

After 48 hours has passed, we won't be able to return or exchange the same.

To be eligible for an exchange, your item must be unused and in the same condition that you received it along with a receipt or proof of purchase. A reverse pickup will be scheduled for the same.


More information on GRC
About GRC:

GRC (Glass Fiber Reinforced Concrete), also known as GFRC (Glass Fiber Reinforced Cement), is a composite material made from a combination of cement, fine aggregates, water, and alkali-resistant glass fibers. The glass fibers are typically added to the concrete mix to enhance its strength, durability, and flexibility.

GRC is known for its lightweight yet robust properties, making it an ideal choice for architectural and construction applications. The inclusion of glass fibers in the concrete mixture significantly improves its tensile strength, making it less prone to cracking and breakage compared to traditional concrete.

GRC is also considered environmentally friendly, as it has a lower carbon footprint to manufacture, uses more naturally occuring raw materials and contains no petroluem based chemicals.
About GRC Planters:

GRC Planters are way lighter than the concrete cousins. While there is increased tensile strength due to the fibre mix. Apart from that they are fire resistant, weather resistant and absorb very little UV radiation. All this makes a GRC planter a very low matenance that can last long years.

These properties make it one of the favourtie material for architectural projects.
About Palasa
Brand Videos